UB'CAL ELECTRONIC WATER CONDITIONER
ABOUT US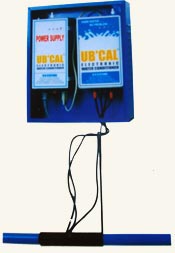 Owing to the hard work and relentless efforts of team members and backed by years of domain expertise, we, U K Systems are committed to provide high quality products and excellent customer service.

Incorporated in the year 2004, we have emerged as reputed marketing company for Electronic Water Conditioner that are capable of preventing and removing scales in domestic as well as industrial water-handling appliances and components like pipes, taps, washing machines, shower heads, geysers, solar heaters & boilers. Beneficial for hard water treatment, residential, agricultural and commercial purposes, these products are used in water industry. Being an authorized dealer in the industry, we have associate ourselves with reputed vendors who is engaged in providing their utmost efforts to attain maximum client satisfaction and meet the growing expectations of the market.

We are an ISO 9001:2008 certified business entity and hence we assure industry standards and International quality norms.

We are working under our proprietor Mr. Jaywant G. Sawant and owing to his valuable insights that our team members have improved our productivity and created a niche for our products in the National market. The hard work and relentless efforts of the team of professionals has facilitated the setting up of an extensive business network across the country. Moreover, our wide spread network is capable of assisting in the efficient distribution of the products in all the states of the country.


PRODUCT FEATURES
Owing to the following list of striking features, our comprehensive array of Electronic Water Conditioners is highly acknowledged in the markets:

No salt or chemicals needed
No maintenance, no plumbing & easy to install
Mains pressure unaffected
Retains healthy minerals
Little space required and safe
Low running cost, negligible power consumption
Effective on PVC, HDPE, copper or GI pipe & steel pipe
No waste water
Money back guarantee
OUR FACILITIES
We have our spacious warehousing unit that is equipped with all essential facilities required for the safe storage of the finished products. This unit is technologically upgraded and is also internally segmented as per the category of the product. This division of the warehouse assists in the timely delivery of the ordered products with the elimination of chaos.


Go To Top